Missions & Outreach with Deborah Ross
DRM partners with other ministries...
Going into all the world...
Pastor Pavankumar Thallapalli from India has been busy preaching the gospel using DRM books and study materials.
Deborah Ross Ministries supplies clothing for the orphan children under Pastor Pavan's care in India.
~~~~~~~~~~~~~~~~~~~~~~~~~~~
DRM provides Bible's in Pakistan!
Pastor's John and Rachel have been preaching the gospel in Pakistan using video teachings from DRM.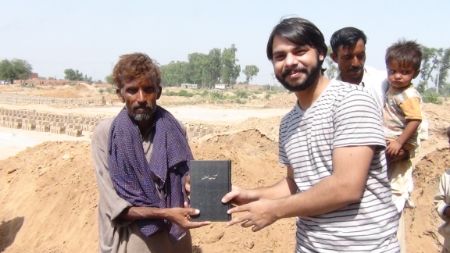 What a blessed time for Pakistan, that people are receiving JESUS in their life and get freedom we are excited about more 40 souls get baptize, no more slaves life, what we can see the rejoicement on their face, how happy they are to know, WHO IS JESUS, we give glory to the lord for all the work, we Pray for the JESUSTAN.
Pakistan Showing DRM Video
Would you help us send teaching materials, clothes and Bibles to India and Pakistan?
~~~~~~~~~~~~~~~~~~~~
DRM goes on foreign missions.
Pictured (below) in Campina Grande, Brazil.
Now, Healing a Broken Marriage is available in Portuguese! Check your local bookstore for your copy.
Check back to this page often for foreign missions updates and opportunities.
To join our team, sign up for our monthly newsletters.
~~~~~~~~~~~~~~~~~~~~~~~~~
Psalm 67:1-7
God be merciful unto us, and bless us; and cause his face to shine upon us; Selah.
That thy way may be known upon earth, thy saving health among allnations.
Let the people praise thee, O God; let all the people praise thee.
O let the nations be glad and sing for joy: for thou shalt judge the people righteously, and govern the nations upon earth. Selah.
Let the people praise thee, O God; let all the people praise thee.
Then shall the earth yield her increase; and God, even our own God, shall bless us.
God shall bless us; and all the ends of the earth shall fear him.