Valentine Events / Christian Speaker, Deborah Ross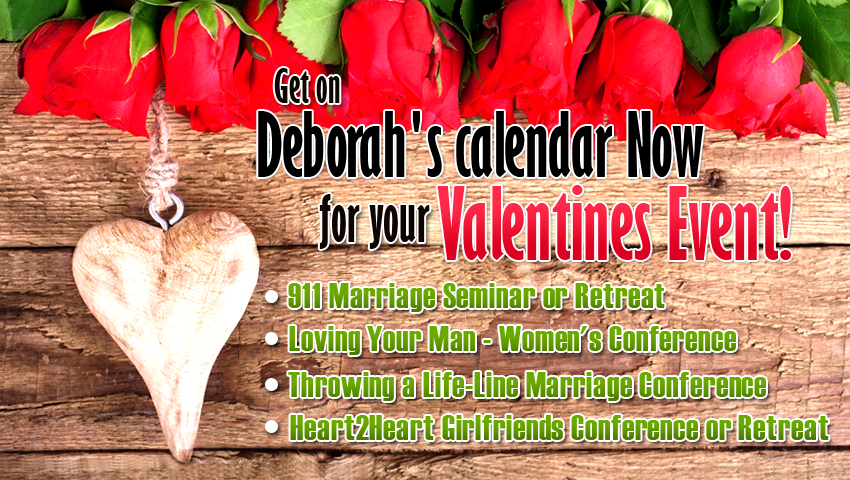 911 Marriage Seminar, Conference or Retreat
Everyone's marriage could use a tune-up. These intensive teaching events are a refreshing faith builder for those in good marriages but they are a life-line for those in bad ones. Participants learn how to defeat the powers of darkness so that their marriage doesn't just survive, but THRIVES... until death do they part. Topics like: Settle it in Your Heart; Forgiveness is a Commandment; What Men Need; What Women Need; Being Intentional About Your Marriage; Cold Love / No Love; Intimacy; Agape Love / Excel Them All; Root Digger (Pulling Down Strongholds & Breaking Generational Curses); Family Wholeness and much, much more. Based off of 1 Corinthians 13 - "Love Never Fails." Hurry to book your event for Valentine's Day weekend and you might be able to book Jay and Deborah Ross together as your speaker TEAM!
Loving Your Man - Women's Conference
This conference helps women learn biblical principles for being the wife Christ created her to be. Deborah will share her story of loving her husband into the Kingdom in a transparent, down-to-earth message that contains tons of practical advice for loving your spouse all over again. Your women will be encouraged!
Throwing a Life-Line Marriage Conference
As featured on the CBN 700 Club, Jay and Deborah Ross have experienced - first hand - marital hardships that seemed insurmountable. Today, their marriage is completely restored and healed! Now, you can schedule Jay and/or Deborah Ross for your next Valentine Conference to share their story! Your group will be encouraged
to overcome life's adversities and to live in the promised land of family wholeness! This is a great message!
Heart2Heart Girlfriends Conference or Retreat
Women of all ages! This Valentine Event could be friend-to-friend, mother-to-daughter, sister-to-sister, or grandmother-to-grandchild! This is the perfect message created just for women who want to bring that special friend to share in a day of honor, respect and love for one another.